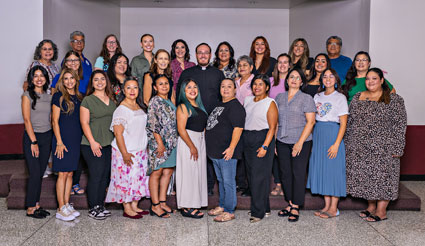 Our
Mission
St. Matthew Catholic School, in partnership with the community, serves scholars and families in its commitment to develop academic excellence with the integration of Catholic values. We provide a safe, multi-cultural, dual-language and nurturing environment, preparing students who love God and want to serve their neighbor as global citizens.
Our
Philosophy
The St. Matthew philosophy begins by instilling in our scholars a sense of purpose developed in connection with Jesus Christ in order to promote Christian values and character through education. The formation of responsible Christians who are prepared for their future responsibilities to church, family, and community is an integral part of our mission. Therefore, we are fully committed to the spiritual, intellectual, physical, and social development of each scholar.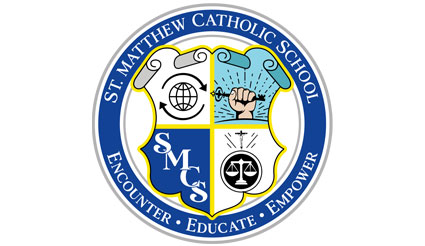 Our
History
St. Matthew School opened its doors in 1943 and has continuously provided a Catholic education to students for the past 70 years. Originally, the Sisters of the Blessed Virgin Mary opened the school and participated in our students education until 2000.
They have left a lasting legacy of adherence to strong academics while children develop an understanding of their Catholic faith connecting this to their personal spirituality.
Until 2010 the school was served by Christian Brothers whose strong tradition of educating the children of the poor is still lived out in our school community.
Through the years, St. Matthew has continued to work with children in the heart of downtown Phoenix providing an area of peace in the midst of troubled neighborhoods. Some remarkable teachers and students have passed through these classrooms.
A 25 plus year partnership with the Jesuit Volunteer Corps has also provided a charism based on social justice that is lived out to this day. With a Principal educated by the Jesuits and several teachers former Jesuit Volunteers, the concept of "persons for others" is at the core the school's purpose.
The goal is to enable students through faith and academics to achieve whatever they dream of becoming. Their love of God and acquired success will remind them to give back to the communities where they live.
In 2009 the school adopted a "Dual Language" approach (50/50 Spanish/English) model. A full time teacher, trained and certified in Mexico as an early childhood teacher (Master's degree) was hired and presently teaches First and Second Grade math, science and language arts in Spanish. The Kindergarten Spanish instruction in math, social studies and language arts was conducted by a teacher aide until the 2013-2014 school year. At that time, a student teacher, being trained in Mexico, was hired and teaches full time in the Kindergarten. This is necessary because about 50% of our Kindergartners have had no previous school experience and the Kindergarten is divided into two groups, one working at grade level from the start, and the other utilizing a preschool curriculum for the first part of the year in order to learn skills such as eating with a fork or using an indoor toilet. The Spanish teacher is supervised by the English language Kindergarten teacher who holds a Master in Early Childhood Education.
As previously stated, math, science and language arts are taught in Spanish in grades K-4 and social studies, religion and language arts are taught in English. The three Spanish speaking teachers are either licensed in Mexico and presently seeking certification and the three English speaking teachers are certified by the State of Arizona.
In 2015-2016 a teacher licensed as an Elementary teacher in Mexico was hired to teach math in Spanish to the fifth grade. There is presently a plan to expand the program in to sixth grade by having the teacher teach language arts in Spanish in 6th grade. This approach is in keeping with the model for the program.
Teachers all attend Diocesan Professional Development sessions twice per year, take advantage of Title I offerings on a regular basis, participate in Days of Prayer led by the Pastor.
Five years ago (2009-2010) the school adopted a "Dual Language" approach teaching in a 50-50 model (Spanish English). The purpose of the program is to encourage students to achieve high levels of proficiency in a second language without detrimental effects to their primary language development. Studies show that students perform better on tasks that call for divergent thinking, pattern recognition, and problem solving, and develop advanced levels of linguistic awareness. Studies further prove that their ability to reason and to perform higher level thinking is enhanced by understanding two languages. It began with a collaboration with Desert Willow Middle School in Cave Creek and was guided by Cristina Ladas, the founder of their program. The principal was able to put knowledge of language acquisition into play (M.A. cand., Portland State University, 1980). The program has grown yearly and growth is measured by in-class methods and standardized tests. In 2012 the school applied for and received a three year grant from Boston College and joined a national consortium of Catholic Schools employing a dual-language approach known as the Two Way Immersion Network (TWIN). For the past three summers the leadership of the program has traveled to Boston for a five day intensive workshop. In addition, Boston College provided the school with a mentor of its choosing and Mrs. Ladas was invited to join the team and has received a stipend from Boston College as the "offiial TWIN Mentor". In the fall of 2014 the team presented a portion of its assessment methodology at the Arizona State Conference on Dual Language Instruction.